About Us
·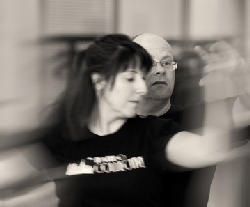 The Mambo Collective started with a small class set up by myself and former dance partner Donna Gustard back in October 2001.
We wanted to raise the level of Salsa dancing within the city (Sheffield) and to produce dancers that could 'hold their own' with dancers from all over the UK. With that in mind we started an improver class with just 3 students (all of whom are still very much with us 4+ years on). We soon realized we needed to start a beginners Salsa class so that we could impress our methodologies at an earlier stage. Our first beginners course started in the January of 2002. Since that time we have had many new faces through our doors and presently run a total of 5 classes over two nights ranging from novice salsa (On 1) to intermediate mambo (On 2) as well as a fortnightly social.
In April 2007, Donna moved to Derby to start her married life and Sue Howard ( a former dance student of ours) became part of the Collective.
Our classes are very much technique biased and we firmly believe that until the basic footwork and techniques are thoroughly 'grooved' a person will never be able to dance freely and enjoy moving with a partner to the music. When the basic techniques are established styling and body movement can be added to become the 'icing on the cake'.
"Technique - bodily control - must be mastered only because the body must not stand in the way of the soul's expression."
- La Meri
We try to dance socially at least once a week in the North and Midlands as well as attending congresses and weekenders in the UK. We also try to actively encourage our students to social dance and regularly update them with "what's on" often travelling together to different venues .
We believe that a good teacher needs to be active on the social dance floor so as to keep abreast of new things that are happening. We are ever seeking to improve our own dancing and spend significant time taking classes and attending workshops with many of the top teachers in the World.
See you on the dance floor!
Dave & Sue